Just thought I should take a break in between the Osaka post and just blog about what happened last weekend before this weekend comes along. I touched down on Friday night(missed the Absolut party all thanks to the horrid traffic) and on Saturday I was back on board with events. I was very much fortunate enough to be invited along for the Mary Quant blogger session all thanks to Manoah and had the privilege to learn makeup tips from Ms Tataki.
Mary Quant, is a designer and fashion icon based in London, she lived her life being a very influential fashion journalist and has of course influenced the fashion history in many way. She then came out with her own makeup line, which now has more than 200 shops in Japan. To be honest, it's not difficult to see why many people are in love with the brand. The color choices they have are superb and the lipsticks colors are just oh so amazing. Don't believe me? check it out yourself at Watson's Muse shop located in Sunway Pyramid!
Anyways back to the session, here's Tataki-san doing her magic on the model


If you asked me, anything that will attract my attention will be the brand that has beautiful lipstick colors. MQ has got such wide options to the lipstick colors!


and if you are an eyeshadow person, you def won't wanna be missing this


Not only that, they also have color MASCARAS, yup you've heard it right, colored mascaras! The brush ain't exactly your typical brush either because it has a coil design on one side and a flat brush design on the other to give max volume and also to help with the fiber application of the mascara(yes, they also contain fibers to help lengthen your eyes!)


Photo credit to Janice Yeap
but the thing that caught my attention most was the gift that was given to us. Now gifts usually do make me very happy but Mary Quant was ever so generous enough to give us this.


Okay so you might be thinking, what's so special right?


Well each of these palletes are fully customisable, which means you can have any colors you want in the palette. I found this a ridiculously smart idea because the colors the picked out for us works perfectly well as a contour/highlighting/blush/ eyeshadow, pretty much the whole face in one color palette. Don't you underestimate the color of brown, peach and silver together because if you are in a rush and don't have muhc time for makeup, these 3 colors will be your best friend.


That and coz they gave me a new lipstick! A girl can never have too many lipsticks(though many might beg to differ for my case bt heck, a lipsticks a lipstick!)
Later that night we headed out for Hui Ying' bday, which was a themed dinner. Dress code- Gossip girl
So I went online and search for characters to go as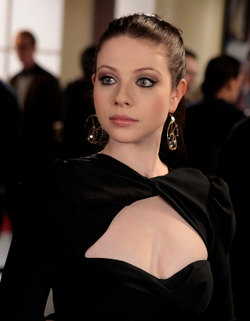 Nate went as Nate naturally


yes, I used the Mary Quant eyehsadow colors for this look=p


and with Alicia


So when we sang the birthday songs, and while we were just taking photos with the cake,


Alicia suddenly shoutout out loud that we couldn't cut the cake
Now at this point we were all really confused, and she after catching her breath she told us that that wasn't the cake she bought!
like whaaaaa?
Apparently when the cake came(same brand same box) she was already trying to think how the cake she bought was such big of a size, not only it looked different but there's just something that's not right about it. She couldn't put a finger to it until when Hui Ying said that it was too big of a cake for just the few of us there, then she it dawned upon her that it wasn't the cake she bought, the waiter had brought the wrong cake =.=
So here's the pic with the right cake


So yeah, that's my funny story for the week. We are halfway through the week now!